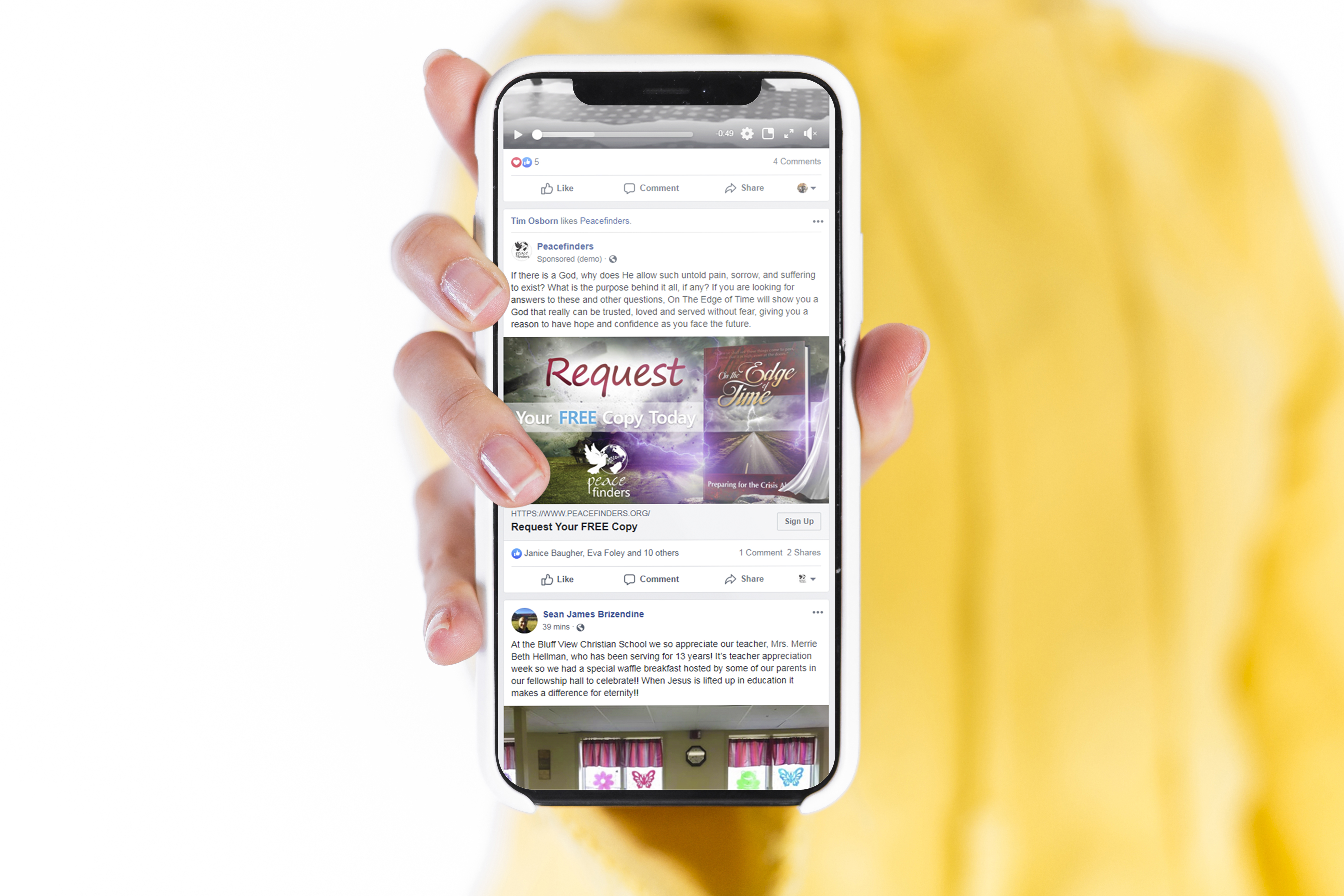 Ready to Sponsor a PSTC Facebook Lead Ad?
Sponsoring a Facebook lead generation ad campaign is easy.
You choose from one of four ads offering one of the following free resources: The Path to Peace, On The Edge of Time, The Great Controversy, or one of four Bible study courses: Amazing Facts, Discover, It Is Written, or a generic ad (see sample ads below).
You then choose your target area based on ZIP code, city, or county.
The potential Facebook audience size for your area will determine your recommended ad spend (how much it costs to run your ad). Your minimum ad spend is $100 plus a campaign management fee equaling 20% of your ad spend. The greater your ad spend, the greater your potential lead generation (more people will see your ad more often). See chart below with guidelines for recommended ad spend. PSTC will help you determine your potential audience size.
At the end of your ad campaign, we will bill you for the total amount of leads generated from your campaign to cover the cost of fulfillment of the offered free book or Bible study. We are currently charging $10 and $15 per lead for free book fulfillment (depending on the book offered) and $5 per Bible study enrollment. 
Facebook lead ads work by making sign-ups easy for people and more valuable for ministry response. Lead ads look just like regular ads but when a person clicks on it, they'll see a form that's already filled out with information they previously shared with Facebook. To order a free book, they simply submit the form and then we follow up with an order confirmation email with links to even more Christ-centered resources found on our website peacefinders.org.
How many leads will you get with a PSTC Facebook ad? Potential leads increases with population size and larger ad budgets, plus other demographics factors such as region of country, race, and economic status. We are currently averaging nationwide 17 leads per $100 ad spend.  
Call today (1.800.728.6872) or submit your request online for a Facebook ad campaign quote! Our social media specialists are ready to answer your questions and assist in setting up your first campaign.
| Campaign Options | Audience Size | Campaign Length | Recommended Ad Spend | Potential Leads (avg)** |
| --- | --- | --- | --- | --- |
| Option A | 10,000 to 25,000 | 2 to 3 weeks | $100 to $300 | 17 to 51 |
| Option B | 25,000 to 50,000 | 2 to 3 weeks | $200 to $500 | 34 to 85 |
| Option C | 50,000 to 100,000 | 3 weeks* | $300 to $1000 | 51 to 170 |
| Option D | 100,000 to 500,000 | 3 weeks* | $500 to $2500 | 85 to 425 |
| Option E | 500,000 + | 3 weeks* | $1500 to $5000 | 255 to 850 |