Christmas Behind Bars
PROJECT: Steps to Christ is all about giving every home in the USA an opportunity to have the Gospel of Jesus Christ delivered to their door through our direct mail distribution of Steps to Christ and other truth-filled literature. However, there are millions of men and women who are not accessible through this direct mail channel. These are the millions who call prison home and who don't have free access to the outside world and vice versa.
Over the years we have ministered to thousands of inmates who have received our books because a caring person on the outside sent it in and that because they received one in the mail themselves. Now we have the opportunity to reach not just one or two in a prison and the few they may share our ministry with but literally an entire prison population and its employees through our partnership with Christmas Behind Bars as they provide gift bags with food and personal hygiene items, plus a Path to Peace booklet, to every inmate in prisons in a growing number of states.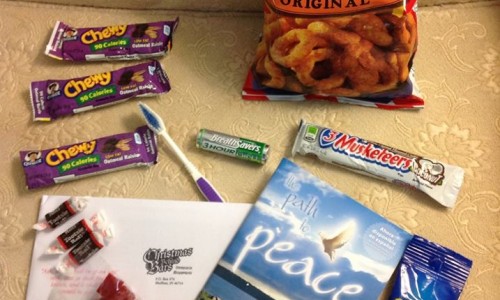 As doors continue to open into more and more correctional facilities, Christmas Behind Bars has a growing need for donated literature. In answer to their prayers, the Lord laid it on our hearts here at PROJECT: Steps to Christ to donate as many Path to Peace as they need to meet the demands of each prison and jail. Each book received will open doors of opportunity for these inmates to receive additional free books and Bible studies and for some to share them with their families on the outside. We have received thousands of requests to date from many searching and grateful prisoners, both men and women.
We have been able to donate over 350,000 books since 2014. With your generous help, we can continue touching lives behind bars. Donate to our Christmas Behind Bars project