Amish Project
Every Sunday morning I can hear the sound of horses trotting down our paved road pulling the traditional black buggy of old order Mennonite families on their way to and from Sunday home worship services. This isn't Lancaster County, Pennsylvania, but the population of different orders of Amish, Mennonite, and other plain people is on the rise here in Northern New York. These are simple, hardworking people who shun the world and hold tenaciously to their traditions, which don't always make sense to us "English" folk. With their rich Christian heritage tracing back to the "radical reformers" and "Anabaptists" of the Middle Ages, there is an open door here for the Adventist Church to bring the light of the three angels' messages to this unique people group who are, for the most part, still living in the darkness of error.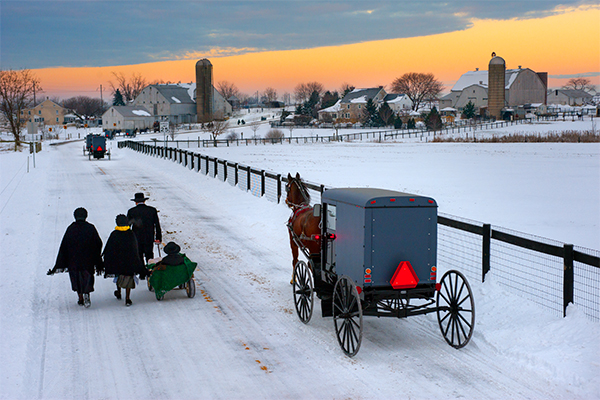 After watching a stirring testimony of an Amish family now Seventh-day Adventist (read article & watch video), a dear friend of PROJECT: Steps to Christ felt impressed to contact us to learn how she could reach the Amish and other "Plain People" in this country with a Steps to Christ mailing. Since the Amish are concentracted in only certain areas of the country, we decided first to begin targeting ZIP codes where they live in greatest concentration, namely Lancaster County PA (26,000+), Holmes County OH (17,000+), and Lagrange County IN (14,000+). So in June 2015 we started with several small ZIP codes in Lancaster County totaling 3,346 homes. We then learned of a brother who had a significant size mailing list made up of Amish bishops and other Plain People. In January 2016 we mailed to the 7,500 bishops, and in April and October to an additional 7,855 homes designated as Plain People. We have received many responses for more literature and Bible studies from these mailings and follow-up by local church members is ensuing. We continue to send our Saturation Mailings on an ongoing basis to the three leading Amish counties.
If you would like to help with this project, we would greatly appreciate your support.